OUR ATELIER BOUTIQUE
The Harricana/Canadian Hat workshop and boutique welcomes you at the heart of Verdun's vibrant Wellington Street for a unique museum-concept boutique experience.

Find one of the most important selections of elegant and functional
headwear in Canada. Discover curated selections of coats, rainwear and active apparel as well as weekend chic made by our design team. Fashion discoveries to be made every month! Exclusively in our boutique, the Lanctôt Pop-Up allows you to access a wide selection of exclusive European outdoor products for men, women and children. 
The Atelier boutique offers a one-of-a-kind experience. As you enter, you will be greeted by the Harricana Café, where you are invited to relax and savour the best latte in town while taking a glimpse at our wonderful hat and accessories collections. 
Enjoy the view on the hundreds of hat moulds of all shapes and sizes testifying to the expertise of Canadian Hat, founded in 1918. Notice Harricana's vintage fur coats, hanging neatly organized in shades of colours, ready to be skillfully transformed into fashionable accessories by our artisans. 
You'll also be fascinated by the ancestral know-how of our creative artisans and hat makers as they manipulate felts presses and industrial sewing machines to transform recycled cashmere, silk, leather, jeans and wool under your eyes. 
Enter the world of Harricana and Canadian Hat for a unique shopping experience.
Services
SHOPPING

Our stylists will help you find the ideal hat or fashion accessory in this special boutique concept. Find exclusive products that are not offered online and get personalized fitting tips. 
FUR EXCHANGE, REMODELING AND TRANSFORMATION

Your vintage fur coat can be exchanged for Harricana boutique gift certificates, remodeled to make it fashionable again or transformed into a new accessory of your choice. We also swap your jeans, tweed jacket, ties, vintage ski sweaters and other materials (by appointment)  

FUR AND HAT MAITENANCE SERVICES

Storage and cleaning of your furs and hats should be done by experts. Find out more on our Fur and Hat Maintenance services. (by appointment) 
ATELIER
Harricana has developed new production techniques with the help of the Société de développement des entreprises culturelles (SODEC). For this project led by our production manager, Cécile, we have managed to:  
• Integrate modular production techniques 
• Create three production modules for moulding, cut-and-sew and recycling. 
• Remodel, modernize and computerize our working space. 
Events
The entire space has been designed for quick turn-around to welcome events of up to 150 guests for private events, fundraisers, Christmas parties, etc.  
6000 square-foot space on three floors 
Mezzanine 
Private showroom 
Both lifting system and wheels, 
High ceiling

Harricana Events and Workshops 
The Harricana-Canadian Hat boutique, café and workshop is the perfect place for group meetings or cocktails with friends. Come live a unique experience in a warm atmosphere that combines the manufacturing era of Quebec, the glamorous world of fashion and the contemporary workspace. Choose one of our workshops or book our
space for your personalized creative event. 
Private Events 
Our unique space is welcoming your private events! The warm and friendly atmosphere of our workshop and boutique is the perfect place to boost your creativity during a business meeting, a film shoot or a photo session. And what about the bistro space for your fashion cocktail party! Tell us about your projects at boutique@canadianhat.ca or contact us by phone at 514-282-1616 ext. 2221. 
WORKSHOPS
Harricana/Canadian Hat Workshop Guided Tours

Discover our step-by-step production process, from design to finished product. 
For a few precious moments, enter the fascinating world of our craftsmen and discover their ancestral know-how. On the one hand, relive the story of one of Montreal's oldest milliner, Canadian Hat, founded in 1918. Admire the unusual and different personalities given by our craftspeople to thousands of hats that are a testimony of this accessory's unwavering popularity through the ages. 
On the other hand, understand the essence of Harricana's mission which has been to recycle and transform our ancestors' furs for nearly 30 years. Thousands of fur coats handed down from generation to generation end up in our workshop. We meticulously preserve them and ensure that each little piece transcends time. Between the fingers of our artists, this noble and durable material becomes new fashion coats, cushions, handbags and pompoms that will be proudly worn by the next generation. Harricana's expertise extends to the transformation of cashmere, silk, leather and recycled wool.  
See our craftsmen at work and walk through all the stages, from creation to sale, during a special 30-minute tour. 
5 to 50 people 
Booking: 48 hours in advance (7 days in advance if you wish your tour to be guided by Harricana's founder, Mariouche). 
Duration: 30 minutes  
Availability: Monday to Saturday, from 9 a.m. to 8 p.m. 
Rates: 20$ per person, minimum of 5 people. Extra 150$ to get the founder Mariouche as your guide and host.


Upcycled Pompom Making Workshop
Learn to make your own upcycled fur pompom to be proudly worn on your favourite winter hat or as a decorative accessory! Come with your friends and spend 30 minutes with our fur experts. Learn more about the Harricana brand, the company's mission and the quality of its products. You will have the chance to pick your own piece of upcycled fur from a vast selection (coyote, raccoon, fox, wolf, etc.) and will be guided by our expert to create a timeless masterpiece! Proudly leave with your unique pompom hanging from your toque or as a fashion accessory on your purse or key chain.
For groups of 5 to 10 people
Bookings: two weeks in advance.
Duration: 30 to 45 minutes
Availability: Monday to Sunday, 9 a.m. to 8 p.m.
Rate: $45 per person, minimum of 5 people.
Bundle up this activity with a workshop guided tour and save $10!
Upcycled Fur Braid Workshop
Make the accessory of your dreams with your friends! Using fur chosen from our impressive selection or upcycled fur, you will make your own braid, guided by our artisans at the Harricana/Canadian Hat boutique workshop. Don't miss this original outing with your friends!
For groups of 5 to 10 people
Booking: please book two weeks in advance.
Duration: 45 minutes to one hour
Availability: Monday to Saturday, 9 a.m. to 8 p.m.
Rate: $160 per person, minimum of 5 people
Real Time Custom-Made Hat Making Workshop
Come live a unique experience and discover the workings of one of Canada's oldest hatters as they make your custom-made hat right before your eyes! Give your personality to a high-end hat that will be created according to your unique combination of one of our 500 shapes, 300 types of trimmings and ribbons and 40,000 feathers... you won't know what to expect! This unique activity is offered exclusively at the Harricana/Canadian Hat workshop and boutique.
For groups of 5 to 10 people
Booking: Please book two weeks in advance.
Availability: Monday to Friday, between 10 a.m. and 3 p.m.
Duration: 2 hours. Includes a visit to the workshop and boutique
Rate: $350 per person (minimum of 5 people)
OUR LOCATION
The unique Harricana / Canadian Hat boutique-workshop is located at 3697 Wellington Street in Verdun. Easily accessible by car, it is also conveniently located near bike paths and just a few steps away from both Lasalle and De L'Église metro stations.
OUR SERVICES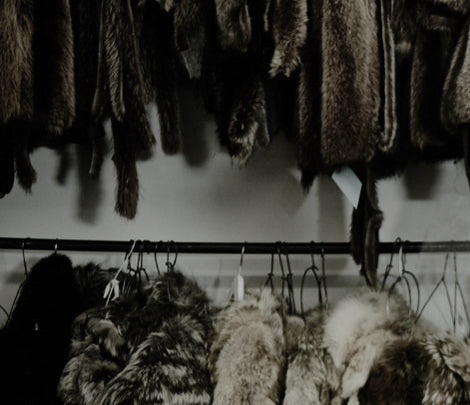 Exchange your fur coat or stole for Harricana dollars 
If you wish to exchange your fur coat for Harricana boutique gift certificates, first make sure to read all the information below, then make an appointment to come see us at our Verdun boutique, 3697 Wellington Street, near De L'Église metro station. 
Terms of the exchange  
Verify your fur is needed for our production. 
Make an appointment 
The quantity of reusable square feet will be measured 
The value per square feet can range from 8$ to 35$ depending on the type of fur 
You will receive a gift certificate valid for 1 year. Please be patient with our limited staff in store, they will attend to shoppers in priority 

NOTICE: Gift certificates issued during the exchange can only be used at Harricana's workshop and boutique in Montréal (3697, Wellington Street, Verdun) on regular priced products and are valid for a period of one year after the date of issue. 

FUR - BARTER 
COYOTE 
WOLF 
NORWEGIAN FOX 
SILVER FOX 
BLACK FOX 
CRYSTAL FOX AND LYNX

FOR DONATION ONLY 
SHEEPSKIN 
MINK 
SHEARED FURS BLACK OR BROWN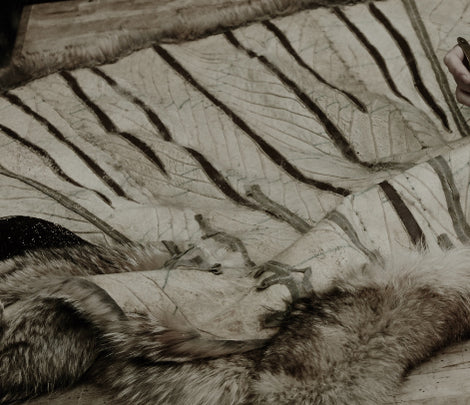 Storage 
Your fur should be stored in a cold dry place and away from light. Do not put mothballs or repellents in your packaging. To ensure optimal longevity for your furs, Harricana offers to store your coats and accessories in a specialized vault where lighting, temperature and humidity are optimal. Although Harricana strongly recommends storing your furs from June to September (during the warm months), storage is available all year round.  
Enquire about storage fees at boutique@canadianhat.ca or call us at 514-282-1616 ext. 2221. 
Cleaning 
Trust a specialist when it comes to cleaning your fur as it is important to preserve natural oils that protect the fur. 
Find out more about our fur maintenance services at boutique@canadianhat.ca or call us at 514-282-1616 ext. 2221.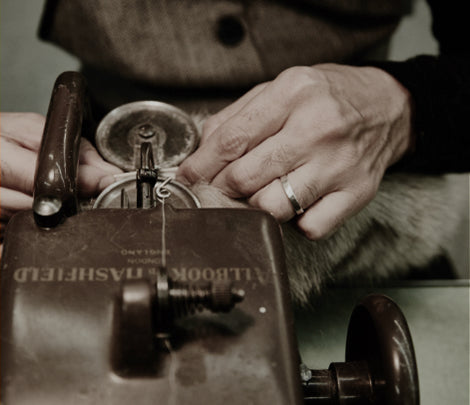 Harricana's recycling mission is not restricted to furs. We have integrated new materials into our product lines and even introduced recycled materials to our Canadian Hat brand hats! 
Jeans, Tweed, Vintage Ski Sweaters,Ties, Silk scarf 
We swap these materials for gift certificates valid on most of our items at the Harricana/Canadian Hat workshop and boutique. Take part in our mission by bringing your treasures to the boutique! 

How bartering works 
Every piece of clothing brought in for barter must have been previously
washed and put in a sealed bag (except for fur jackets that we send to a special cleaner). 

Bartering Values 
3 ties = $ 5 boutique voucher 
3 pairs of jeans = $ 5 boutique voucher 
2 Norwegian-style sweaters = $ 5 boutique voucher 
2 men's tweed jackets = $ 5 boutique voucher 
OUR TEAM